Blogs
Interview with Najin Sword MakNooN: "Supports like Nunu, which is weak in my opinion, is not played [in Korea]."
Wed 4th Jul 2012 - 10:02pm
MakNooN probably doesn't need an introduction. He's really popular in not only in the Korean community, but in the foreign community as well. He's the captain, play-caller, and top-laner for the newly formed Najin Sword team, who are in the same group as Team Dignitas in the OGN Summer tournament.
Enjoy the interview!
(Image courtesy of Inven)
You had to go through the qualifiers like the Shield team. How does it feel to reach the group stage?
MN: I was worried because the qualifers this season was more competitive than the last one, but I'm glad that we got through.
Najin Sword is a new team and foreign fans might not be too familar with your team. Can you do a quick introduction of the team?
MN: I had personal concerns because there were differences in my playstyle and the team. But the President of the Najin corporation created another team for me, and Sword is composed of members that I connect well with.
Is the team named Sword because it's offensive? Is there a special meaning behind Shield and Sword?
MN: There is the meaning that the teams are the sword and the shield that protect the Najin empire (I/N: e-mFire = empire). I think Sword plays more offensively than Shield as well.
I would like to find out more about the rest of the members of Sword as well. Can you introduce the other members in this format: ??? player is the most ______ on the team?
MN: - Najin Song is the shortest member of the team lol. He plays mid and his game-sense is outstanding.
- Najin Cain is the most dependable member of the team. He's the oldest member of the team and he has an amicable personality. (I/N: Support)
- Najin Watch is the most handsome member of the team. He's really handsome. He is a former SC:BW pro-gamer so his mindset (as a professional gamer) is good and he's dilligent. (I/N: Jungle)
- Najin Prey is the biggest person on the team. !! lol He's over 190cm tall and he has a large physique. (I/N: AD)
(I'm sorry if I didn't spell the IDs correctly... there are different spellings on different websites =/)
(From top left to bottom right: Song, Prey, Cain, Watch, and MakNooN; Image courtesy of Stoo)
Perhaps its that you have been playing LoL for a long time on NA, but you are really popular within the foreign community. Do you think foreign players and Korean players have a different approach/playstyle for LoL?

MN: I think emphasis on bottom lane is really heavy for almost all Korean teams. Supports like Nunu, which is weak in my opinion, is not played.

I personally do not think that a lot of foreign fans are not aware of the Korean teams/scene or are not paying attention to them. Why do you think that is?

MN: Well... I think it's because the Korean players haven't shown a great presence on an international stage. I think as time goes by they well receive more attention.
Do you think LoL will become the "national pasttime" for Korea like SC:BW?

MN: NO DOUBT ABOUT THAT.

In order for LoL to take the next step as a game, or in order to maintain its popularity, Riot has to ______.
MN: Riot just has to keep it up. I like everything about Riot Gaming. I'm proud to be a professional gamer for this game :)
Are you close with the Spiral Cats members? Which member is the closest to your ideal woman/girlfriend (in terms of traits)?
MN: Umm... there isn't a member like that... but, if besides the age, Tasha.
A team/member that you would like to meet/face in the OGN Summer tournament?
MN: I LOVE YOU SNOOPEH!!!!
The "group of death" in the tournament?
MN: I think it's Group A and D. The line up is stacked. My group is hard too but A and D are the most anticipated groups.
... and what does MakNooN mean?
MN: The last eye-smile... ha (I/N: "Mak" is a slang for "last" in Korean, and "NooN" means eye and refers to "eye smile".)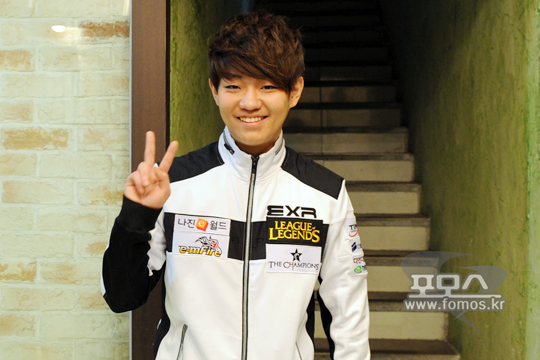 (Image courtesy of Fomos/Daum Ruliweb)
Thanks for reading :) I would like to thank Najin coach Reach (Park Jung-Suk) for arranging the interview and both HooN and MakNooN for participating! Be sure to visit MakNooN's Facebook!